FUJitsu PRIMERGY RX4770 M6 – The Key of Digital Transformation
Digital Transformation (DX – Digital Transformation) is an inevitable process that takes place in every corner of the socio-economic life. But in order for digital transformation to be successful and effective, organizations and businesses have faced many difficulties.
In order to help customers solve this conundrum, in the second half of 2020, Fujitsu – Japan's leading information technology company – has officially introduced to the market the new generation of 4-socket server PRIMERGY RX4770 M6. integrates the latest Intel chip generation – Intel® Xeon® Platinum processor – 3rd generation of Intel® Xeon® Scalable processor family, with breakthrough power. This is a server line that achieves excellent data processing capabilities, satisfies all resource requirements and is fully compatible with infrastructure in the age of digital transformation (DX) and will be a key component factors necessary and sufficient for all agencies, organizations and enterprises to build IT systems in digital transformation.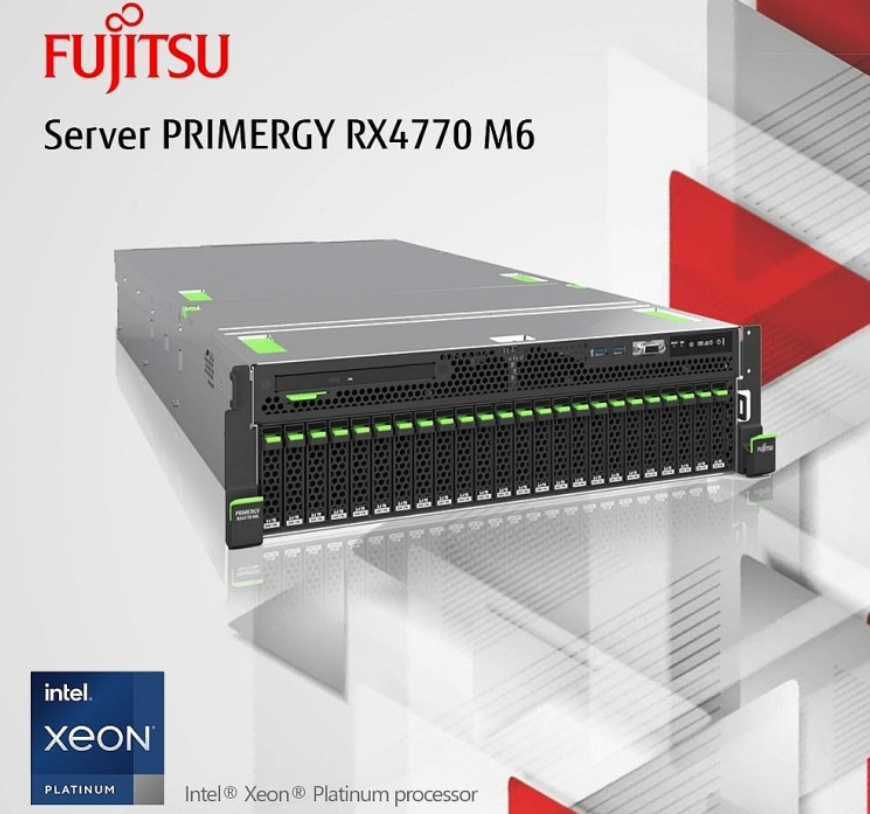 The appeal and challenge of DX
Digital transformation increasingly shows its preeminent role when it helps turn IT into a weapon and competitive advantage for businesses, truly bringing value to customers and creating value for the user. use. Especially, for financial institutions and key enterprises, DX plays a core and important role in the transformation of an organization to adapt to the digital era. DX's undeniable appeal lies in the following three aspects:
The insistence on sticking with the old generation infrastructure is the obstacle to the development of a unit. As digital resources are gradually cheaper with the explosive growth of cloud computing and the Internet of Things connected, the IT environment applied in businesses and organizations is completely different, and now is the time it cannot be more suitable to use IT as a lever for the transformation of operating models, applying technology to create new values.
The behavior and consumer orientation of all walks of life are also changing under the influence of technology. Consumers tend to gradually move from purchasing entities to utilizing conceptual values, gradually from self-owning to leveraging shared services. In response to a change in consumer consumption patterns, an early digital transformation business is one that attracts a larger set of customers and a higher chance of winning.
"Dam and rebuild" sometimes is a good solution for businesses to adapt to the onslaught of new technology waves. As technology changes, the way services and operating models of businesses and organizations are also affected by digital and technology and are forced to change. DX is an effective weapon to help businesses not passively cope with the above situation.

As a matter of course, to make a transformation really effective, change will always come with challenges. The digital transformation in theory is the maximum exploitation of data from sources such as Cloud, IoT, 5G, … to create surplus value on traditional activities or offer a new operating model application-oriented. , automation of work processes. But in reality, in order to realize DX, we have to face countless difficulties in terms of technology, ideas, as well as ways of transformation, because no organization has fully proposed. What are the interfaces, architectures, or standards recommended for IT applications for DX? Digital transformation brings the most value to industries like finance and services, and at the same time presents major challenges.
First, organizations must increase openness in order to attract users. When customers, especially young ones in the digital age have behavior shifts, require the units to be ready to "open", including their post-digital transformation systems. has high compatibility with other systems, is easy to use, and must be encouraged by their own employees to "open up" more to adapt, or make more innovations about the process, on operation , or how it works.
Businesses or organizations also need to build a truly flexible working environment, in which the operation of the unit is adaptable to change, encouraging its personnel to actively set development goals. for yourself and for businesses.
Another difficulty, is that all responses have to be implemented extremely quickly. In the digital age, society and competitors are not waiting. Early apply technology, soon dominate the market, every day, businesses have that day's advantage. The problem is that converting an entire machine can sometimes take years. Obviously, choosing to convert the number somewhat, what to convert quickly and efficiently is a headache and is not a simple matter.
RX4770 M6, pioneering in the DX road
Considering the challenges faced by businesses or organizations, in a context where data mining and IT adoption are pivotal in the digital transformation journey, an efficient digital transformation infrastructure must be based on The device meets three factors: faster data exchange, more data storage, and all types of data processing. As the leading IT company in Japan and with the business line of digital transformation and co-creation with customers, people-centered, Fujitsu has launched the latest server line on the platform. x86, that's the PRIMERGY RX4770 M6, a product with the goal of assuming the challenges of building DX infrastructure based on performance, storage, and connectivity.
Expected by the company as a candidate for the position of kernel in the new generation infrastructure, the RX4770 M6 demonstrates remarkable values. The lineup is engineered with the following: 2 to 4 Intel 3rd generation CPUs, the Intel® Xeon® Scalable processor with options such as Intel® Xeon® Gold 53xxH, Intel® Xeon® Gold 63xxH, Intel ® Xeon® Platinum processor 83xxH, up to 28 cores per CPU, totaling 112 cores per server; RAM capacity reaches 15TB; storage capacity as a miniature disc cabinet with 24 slots for hard drives; Rich connection interface based on 11 PCIe Gen 3 broadband slots. All packaged in a 3U chassis and only need 2 power supplies, reducing power consumption. Core values ​​for this latest line of Fujitsu servers include:
– Creating a platform for users to smoothly run high-load applications for the most complex workflows and handle the most complex and large data tasks of an organization, a business.
– Responsive in terms of performance for even very demanding applications, like a supercomputer system.
– Large and rich expandability of CPU, RAM, hard drive, I / O card, GPU card. – Compatible with all management standards, allowing flexible infrastructure operations in a multi-platform system.
– High security, reliable.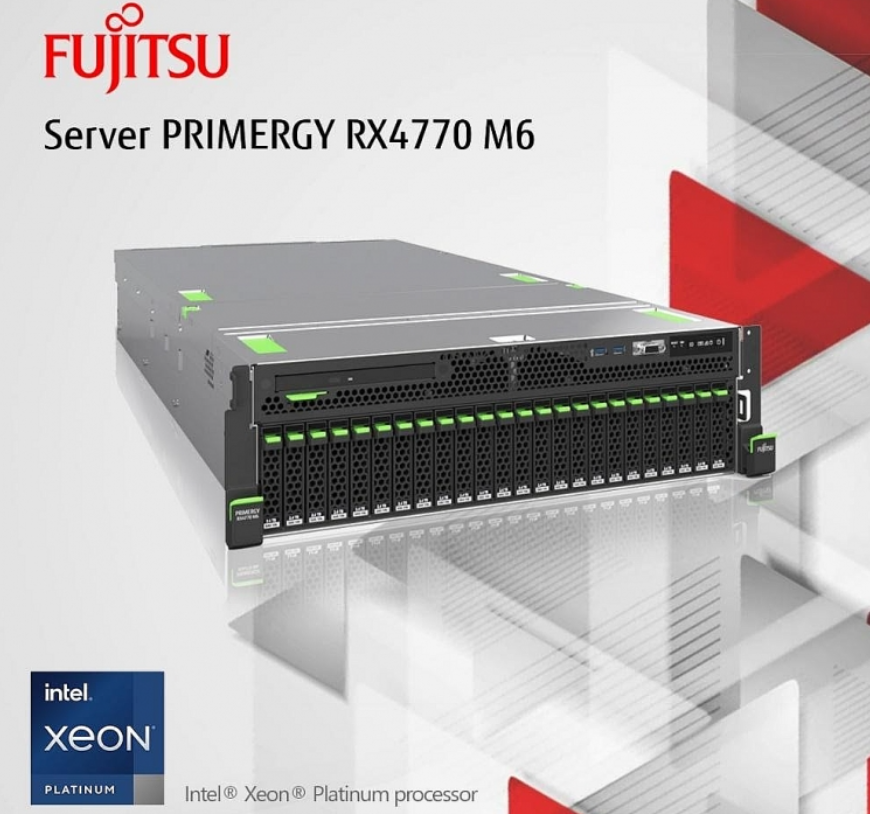 With the aforementioned features, the RX4770 M6 series servers are powerful in performance and scalability, making it possible to widely apply all requirements for different roles in an IT infrastructure architecture, helping to meet Meeting all business requirements from operating extremely large databases, building virtualized systems with high density, to using them to install critical enterprise applications, or deploying computing systems. high-performance math, solving problems related to artificial intelligence, deep analysis, supporting businesses to make right and timely business decisions in a new, volatile environment. This server-class application integration will be a valuable choice for every organization when bringing DX into practice.
Conclude
The base is 4 3rd generation Intel® Xeon® Scalable processors with an intelligent interconnect architecture between core components such as processor, RAM, motherboard, I / O and storage, and Fujitsu's new owner covers all applications. RX4770 M6 has always shown respectable processing power. The performance records achieved when testing SAP HANA or VMWare are compelling evidence where the most suitable areas to take advantage of this server line include application processing. high-load workflow, large-scale virtualization, in-memory database, or big data problem.
In the strong DX wave, where the processing power, reliability, and efficiency of the infrastructure server are at the forefront, the RX4770 M6 still demonstrates the ability to firmly steer the entire IT infrastructure. . It can be said that this is a server line that fully meets the requirements of systems and applications in the era of "new normal", is the fundamental device that helps IT application units own a machine capable of transferring Faster data exchange, more powerful storage, and handling of all problems and data types are the basis for an organization or unit to succeed on the DX roadmap.